Boat Detailing Cocoa FL
Professional mobile boat detailing and yacht management services.
We take pride in delivering top-tier boat washing services in the vibrant maritime setting of Cocoa FL. Our meticulous approach guarantees that each inch of your vessel receives the attention it deserves. Whether your boat finds its haven on the water's surface or on dry ground, we extend our boat washing prowess. Our services effectively eliminate salt residue, bird droppings, water stains, and accumulated grime, leaving behind a vessel that's both refreshed and immaculate. Even the most challenging-to-access areas, such as beneath hatches and along gutter tracks, are given the same meticulous treatment. Fueled by our unwavering pursuit of excellence, we ensure that every nook and cranny of your boat glistens with brilliance. Entrust our team to bestow your boat with a revitalized appearance that rivals its brand-new state!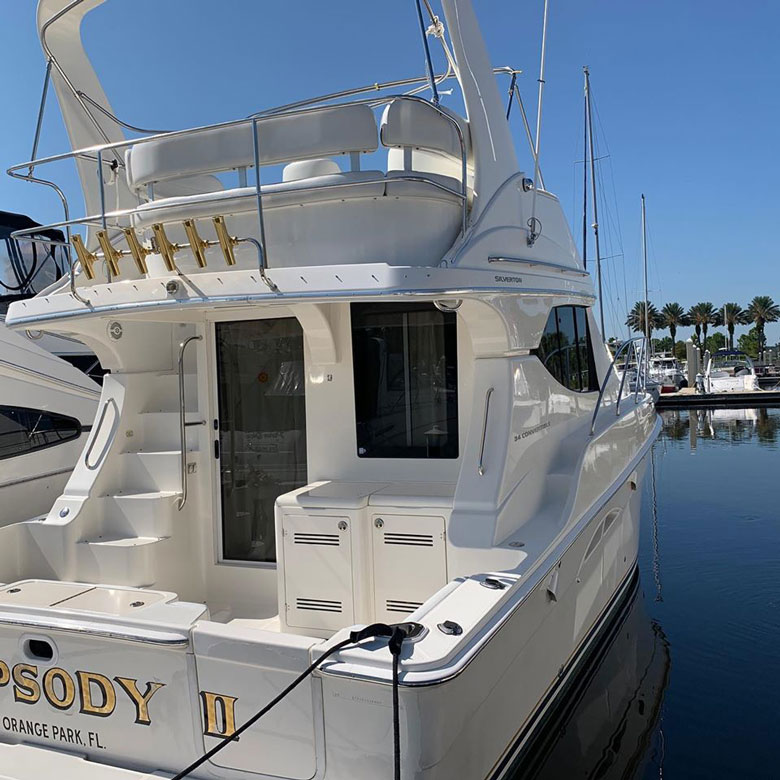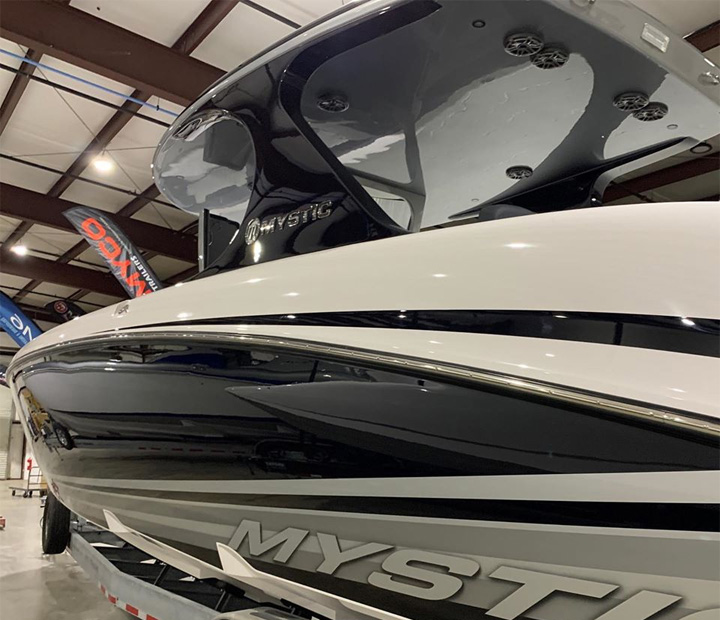 Boat Compounding and Waxing Cocoa FL
In Cocoa FL, we provide boat compounding and waxing services to shield your boat's exterior from ocean life's potential abrasions. Our process combats oxidation, revives brilliance, and fortifies against external elements. Beginning with an in-depth assessment of gel coat oxidation levels, thickness, and quality, we tailor a personalized strategy. This may involve a customized mix of compounds and sanding techniques, effectively eliminating oxidation and culminating in a flawless finish.
To conclude this service, we offer that protective finish of your choice. We offer waxes, sealants, and ceramics to protect your vessel.
Boat Detailing Services Cocoa FL
Safeguarding and upholding your boat's condition necessitates regular boat detailing services. Florida Boat Detailing offers comprehensive boat detailing services in the captivating expanse of Cocoa FL, encompassing:
Buffing & Polishing
Waxes, Sealants or Ceramic Coatings
Boat Washing
Cleaning & Protecting Seats & Cushions
Cleaning & Polishing Windshields & Glass
Cleaning Canvas & Outdoor Carpeting
Interior Boat Cleaning
Teak Deck Cleaning & Care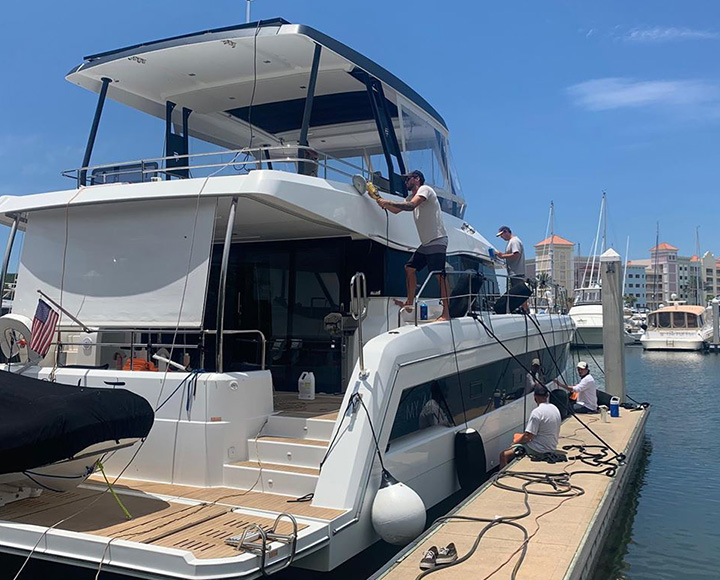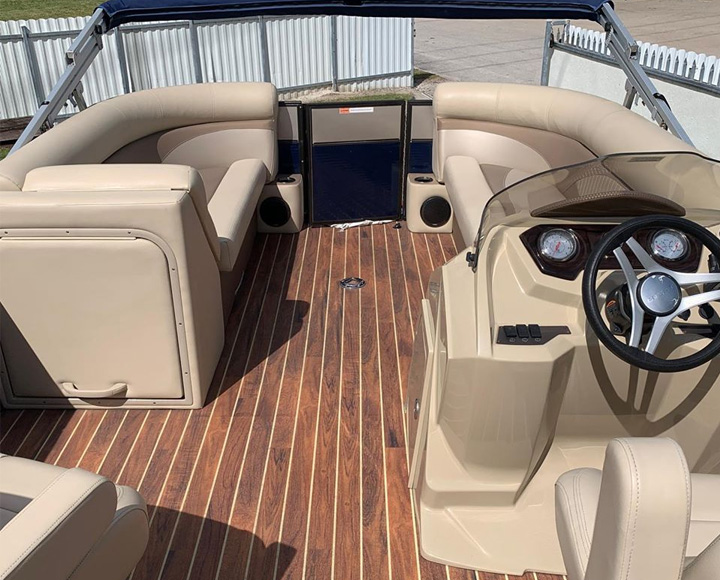 Teak Deck Cleaning Cocoa FL
Is your teak deck in need of some revitalization? Turn to Florida Boat Detailing for tailored teak deck care, cleaning, and brightening services in Cocoa FL. Our approach is entirely personalized to cater to the distinct needs of each vessel. Whether your aim is to restore weathered teak decks or rejuvenate a faded teak finish, trust that your boat is in capable hands. Contact us today to benefit from our expert teak deck cleaning services in Cocoa FL.
Interior Boat Cleaning
Cocoa FL
Our interior boat cleaning services in Cocoa FL are designed to ensure every facet of your vessel's interior is restored to its prime state. From cleaning toilets and bathroom spaces to the rejuvenation of seats and cushions, no detail is overlooked. We skillfully polish and restore wooden surfaces, leaving them with a gleaming luster. Even the mirrors and windshields receive meticulous attention, ensuring crystal-clear views. We deep clean carpets and vacuuming to remove debris from the depths, while our meticulous dusting ensures no surface is left untended. Interior rust stains are eradicated, and the cleaning of hatches and compartments guarantees no corner is neglected. In essence, we offer an all-encompassing solution that caters to every aspect of your boat's interior, ensuring it remains as inviting as the day it set sail.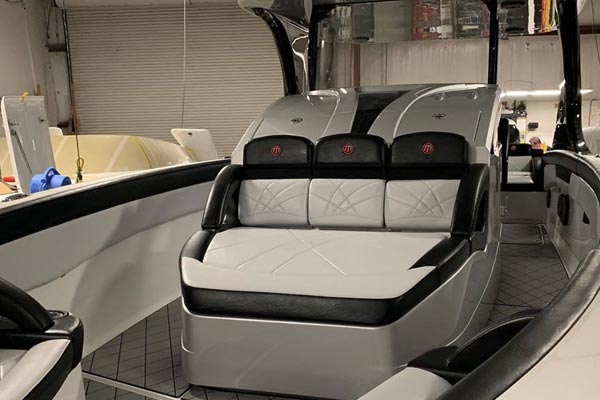 Book Our Services
Contact Florida Boat Detailing LLC by filling the form below.
"*" indicates required fields
Request Our Boat Detailing Services Now
Get In Touch with us to get the professional boat detailing services.