Teak Deck Care
Professional mobile boat detailing and yacht management services.
When it comes to teak deck care, Florida Boat Detailing is the authority in boat and yacht maintenance. We understand the inherent properties of teak wood and its unique characteristics for marine craft, so we tailor each teak deck care service to the individual boat or yacht's needs. Whether you're looking to clean & restore teak decks that have been weathered from years of harsh marine life, or simply brighten up a dull teak finish, Florida Boat Detailing can provide the teak deck care services your vessel requires. For quality teak care and unparalleled customer satisfaction, Florida Boat Detailing is here to help.
When it comes to teak deck brightening, Florida Boat Detailing is the choice of many boat and yacht owners, who recognize quality and value in their services. For all boaters out there looking to restore, upkeeping or simply regular maintenance on their teak decks, Florida Boat Detailing will be sure to provide an excellent service every time. From cleaning to scrubbing and sealing, clients can rest assured that the work done by Florida Boat Detailing will help keep their teak decks looking brand new for years to come. With fast turnaround times, professional technicians and customer satisfaction as their top priority, teak deck brightening is a service provided with pride at Florida Boat Detailing.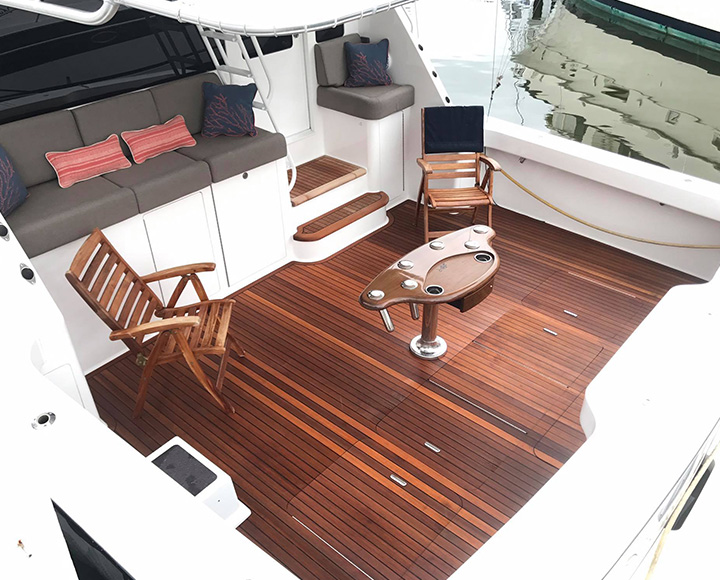 If you're looking for an eye-catching teak deck, we've got the perfect solution for you! Our teak deck cleaning option is designed to make sure that every inch of your boat looks picture-perfect. Unlike some services, we never paint or clear-coat teak wood – as this can damage the wood and destroy the grains. Instead, our team works hard to care for your teak deck with a soap and water wash if necessary, or an extra two-step acidic cleaner and brightener. We understand how important it is to keep your outdoor space looking dazzling – so we'll do whatever it takes to guarantee a teak deck that's truly spectacular!
Additionally, if your boat's interior is in need of some refreshing, we offer interior cushion cleaning as well. Our array of restorative methods can help eliminate musty odors, blemishes caused by spills and patches of mildew, guaranteeing that your boat looks like it's in prime condition with minimal work on your part!
Get In Touch with us to get the professional teak deck care services.