Boat Detailing
Professional mobile boat detailing and yacht management services.
All washes include washing the boat (from the waterline up if in the water or what we can get to if out of the water), cleaning under hatches, and all gutter tracks when accessable. We remove salt, bird droppings, water stains and all dirt. We also dry all windows and brightwork. Florida Boat Detailing offers one-time washes and recurring washes according to a schedule you prefer.One of the keys to boat maintenance is also one of the simplest- have your boat washed and waxed regularly.
Routine cleaning facilitate a more pleasant and organized boating environment, but it also goes a long way towards counteracting the long-term effects wear and tear. Keeping a regular boat detailing schedule will also go a long way toward preserving the beauty, functionality, and resale value of your vessel. You or your Florida Boat Detailer will be able to spot potential problems that may need immediate action, thereby saving you from having to shell out a huge sum for repair or replacement in case the issue gets worse in the future. You don't want your boat breaking down in the middle of a fishing trip or family occasion. Ask us about our regularly scheduled Florida Boat Detailing services!
Why You Should Use a Professional Boat Detailing Company on a Regular Basis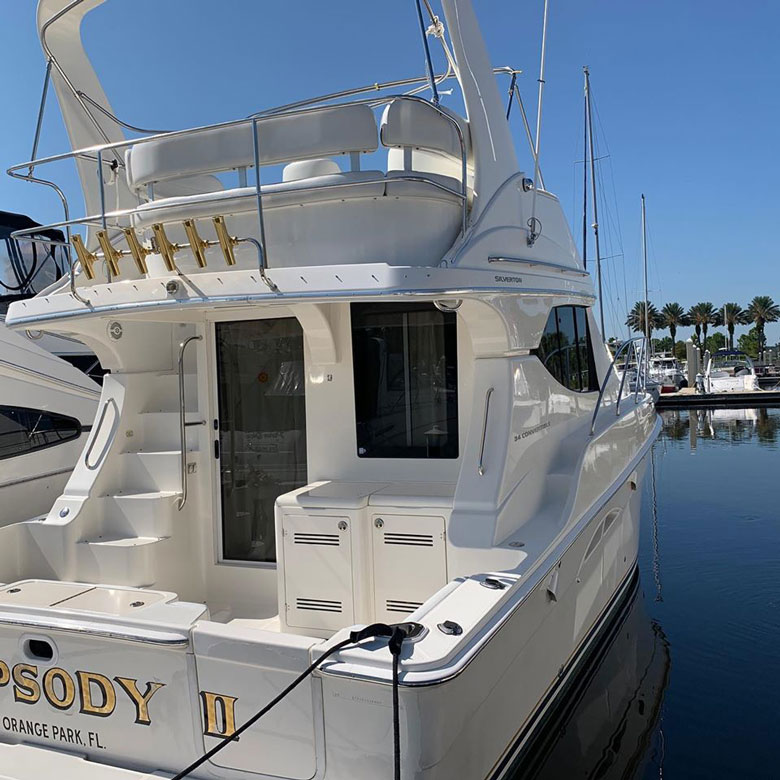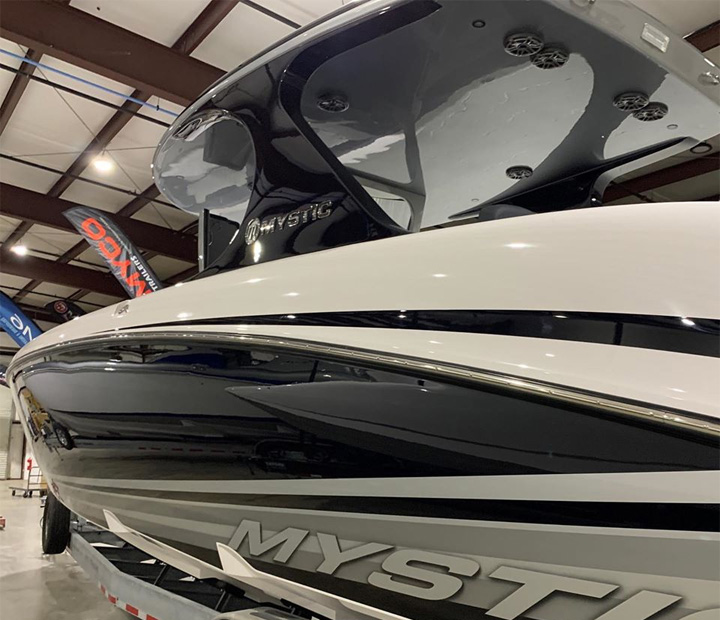 We do one-step (using pure wax or a cleaner wax), two-step (using compound first and then wax) to remove any light oxidation, or for best results, a three step process (numerous passes of heavy and lite compounds, and a wax). We also assess the level of oxidation on the gel coat, the quality and thickness of the gel coat and then determine which custom wax and/or compound mix will give us the best results.
Typical results of our boat detailing (the picture on left)- yes, that is the side of a boat that you are looking at!
Best results are achieved from monthly care. Ask us about our "Wax List"!
Detailing services include:
Buffing with special compounds and wax
Remove all accessable light rust stains inside and out
Clean and protect all vinyl, leather and plastic (seats and cushions)
Clean and polish windshields and glass
Clean all canvas and outdoor carpeting
Interior – vacuum, wipe all surfaces, clean windows, seats and carpeting.
Polish all brightwork
Clean and protect Isinglass/Strataglass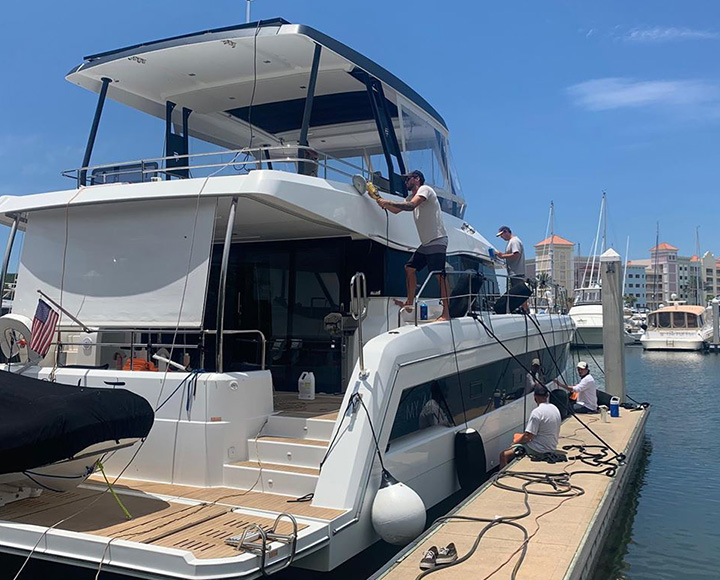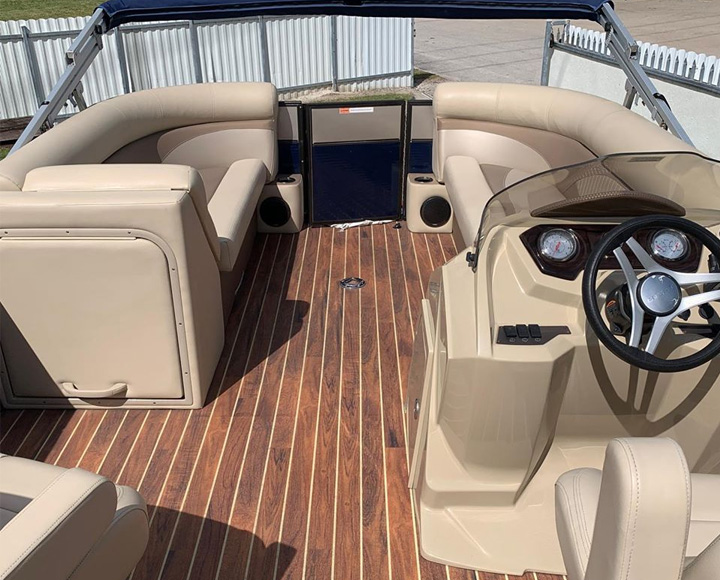 We know you want every aspect of your boat looking good, so we even clean and brighten teak decks whether it just requires a soap and water wash or a two-step acidic cleaner and brightener.
Interior cleaning services consist of a top to bottom cleaning. This includes cleaning the toilet, head, sinks, walls, vacuuming and/or deep clean carpets, dusting and polishing wood, mirrors, removing stains from carpeting, and cleaning inside all hatches and compartments.
Request Our Boat Detailing Services Now
Get In Touch with us to get the professional boat detailing services.