Boat Detailing
Daytona Beach FL
Professional mobile boat detailing and yacht management services.
Boat Washing Daytona Beach FL
Florida Boat Detailing presents exceptional boat washing services in Daytona Beach FL. Our meticulous approach ensures that every inch of your vessel receives the care it deserves. Whether your boat rests upon the water or on dry land, our skilled team expertly removes salt residues, bird droppings, water stains, and grime, leaving behind a refreshed and immaculate surface. We pay attention to even the most hard-to-reach areas, such as beneath hatches and along gutter tracks. With a commitment to detail, we dry windows and brightwork, ensuring every aspect shines brilliantly. Entrust your boat to us, and experience the rejuvenating transformation that our boat washing services bring to your maritime investment.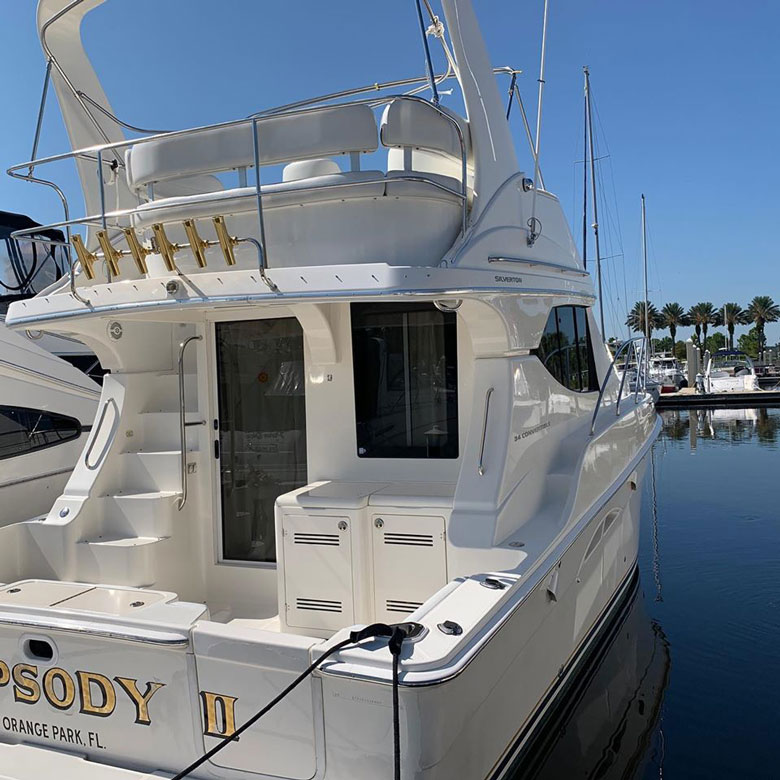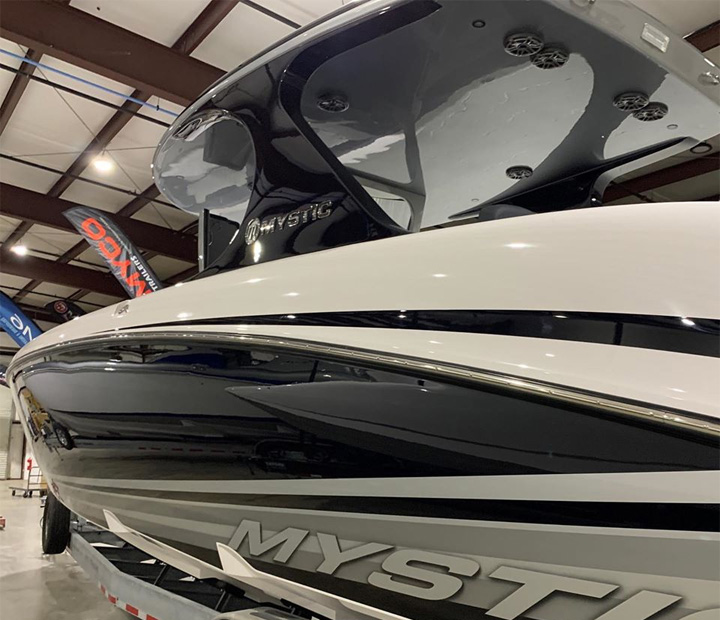 Boat Compounding and Waxing Daytona Beach FL
Elevate the allure and resilience of your boat with Florida Boat Detailing's exceptional boat compounding and waxing services in Daytona Beach FL. Our specialized team employs a meticulous process that begins by assessing your boat's gel coating for oxidation and wear. With this insight, we craft a tailored strategy that combines compounding and precise sanding to eliminate oxidation, unveiling a flawless surface. We then adeptly polish the gel coat to remove swirls and imperfections, enhancing its reflective gleam. The final touch involves the application of top-tier waxes, sealants, or ceramics, granting your boat a robust shield against the elements. Our dedication to detail ensures that your vessel radiates a renewed brilliance while enjoying extended protection. Experience the transformation firsthand with our boat compounding and waxing services.
Boat Detailing Services Daytona Beach FL
Preserving your boat's prime condition involves meticulous attention to both its interior and exterior surfaces, safeguarding them throughout every season. Florida Boat Detailing is dedicated to this purpose, offering a comprehensive range of boat detailing services in Daytona Beach FL. Our services encompass:
Buffing & Polishing
Waxes, Sealants or Ceramic Coatings
Boat Washing
Cleaning & Protecting Seats & Cushions
Cleaning & Polishing Windshields & Glass
Cleaning Canvas & Outdoor Carpeting
Interior Boat Cleaning
Teak Deck Cleaning & Care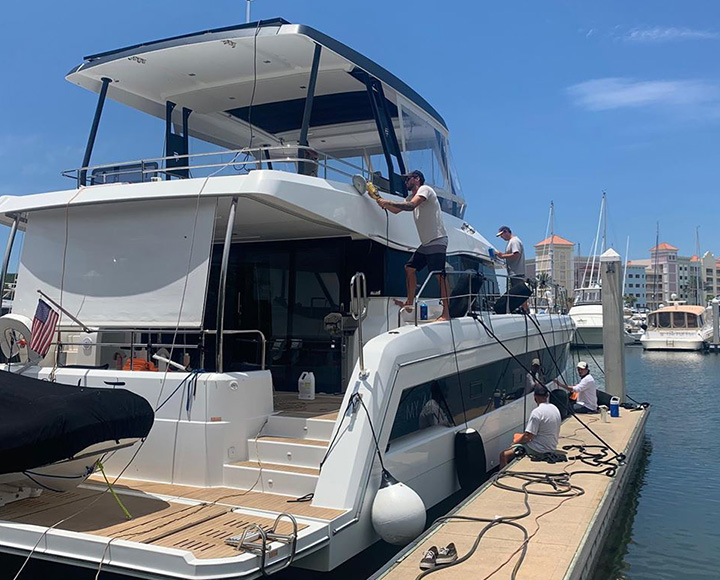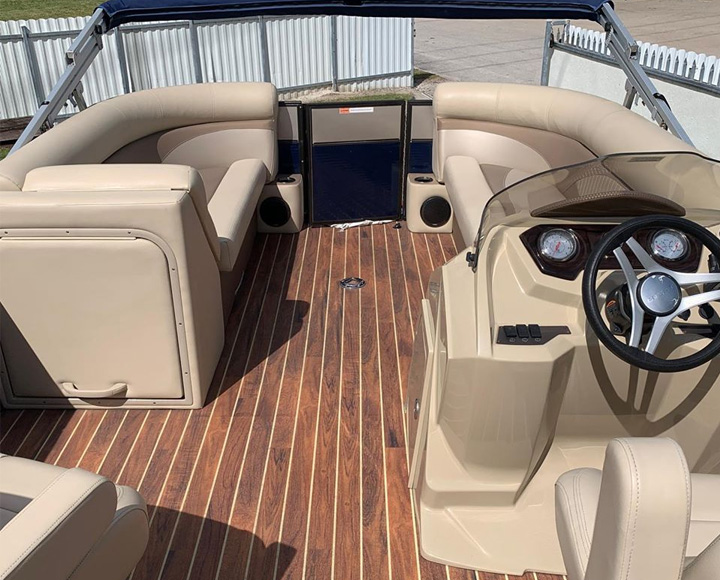 Teak Deck Cleaning
Daytona Beach FL
When it comes to teak deck care, we have you covered. We understand the unique properties and characteristics of teak decks, so we tailor our cleaning & brightening services to the needs of each individual boat. Whether you're looking to clean & restore teak decks that have been tarnished from years of harsh elements & marine life, or simply brighten up a dull teak finish, Florida Boat Detailing can provide the teak deck care services in Daytona Beach FL that your vessel requires.
Interior Boat Cleaning Daytona Beach FL
As vital as exterior care is, the interior of your boat demands equal attention and safeguarding. Florida Boat Detailing stands ready to deliver thorough interior boat cleaning services in the heart of Daytona Beach FL. Our comprehensive offerings comprise:
Toilet Cleaning
Bathroom Cleaning
Vacuuming & Deep Cleaning Carpets
Dusting & Polishing Wood
Seat & Cushion Cleaning
Cleaning Hatches & Compartments
Cleaning & Polishing Mirrors
Removing Interior Stains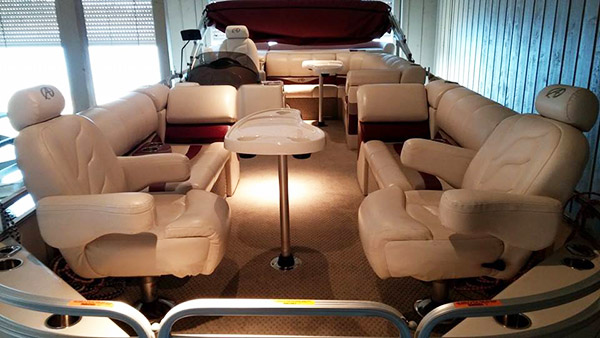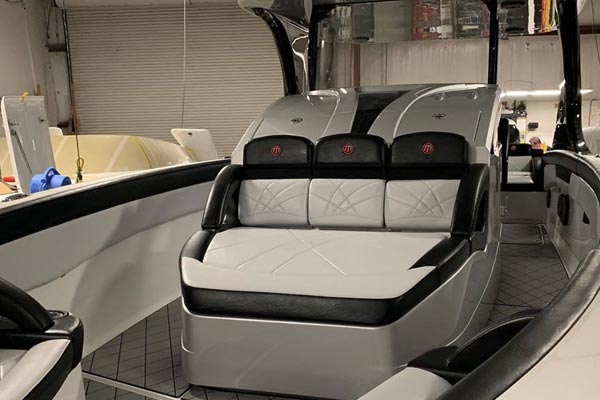 Book Our Services
Contact Florida Boat Detailing LLC by filling the form below.
"*" indicates required fields
Request Our Boat Detailing Services Now
Get In Touch with us to get the professional boat detailing services.