Boat Detailing
Ormond Beach FL
Professional mobile boat detailing and yacht management services.
Boat Washing
Ormond Beach FL
Our commitment to excellence shines brightly through our exceptional boat washing services in Ormond Beach FL. With unwavering dedication, we ensure that each facet of your vessel is treated with the utmost care it deserves. Whether your boat is afloat or resting on dry ground, we've got you covered! Our services skillfully remove salt residue, bird droppings, water stains, and accumulated grime, unveiling a refreshed and immaculate vessel. Even the most hard-to-reach areas, including those concealed beneath hatches and along gutter tracks, receive the same meticulous attention. Driven by our resolute pursuit of perfection, we guarantee a brilliance that radiates from every nook and cranny of your boat. Entrust our team to reinvigorate your boat's appearance with confidence!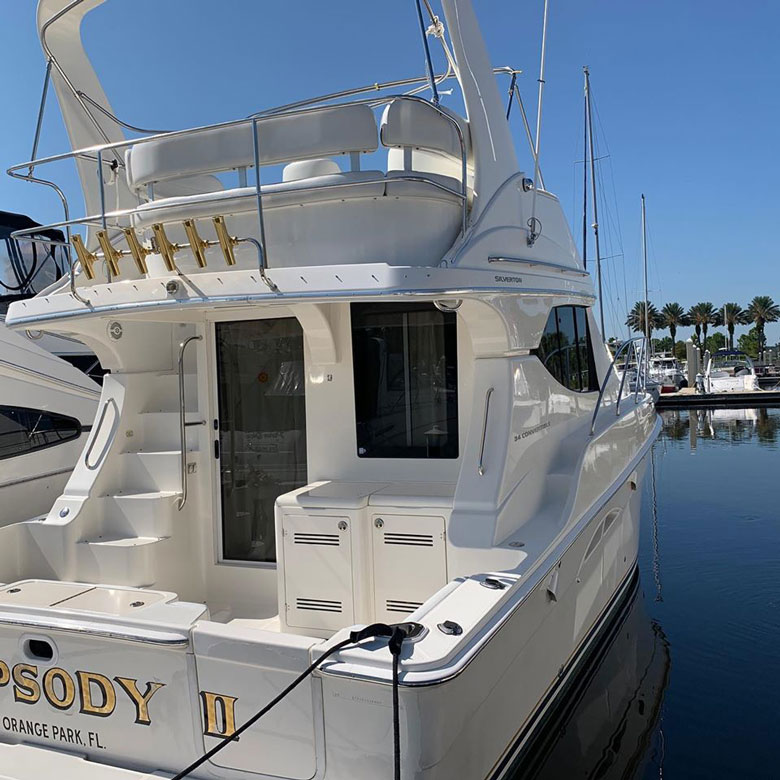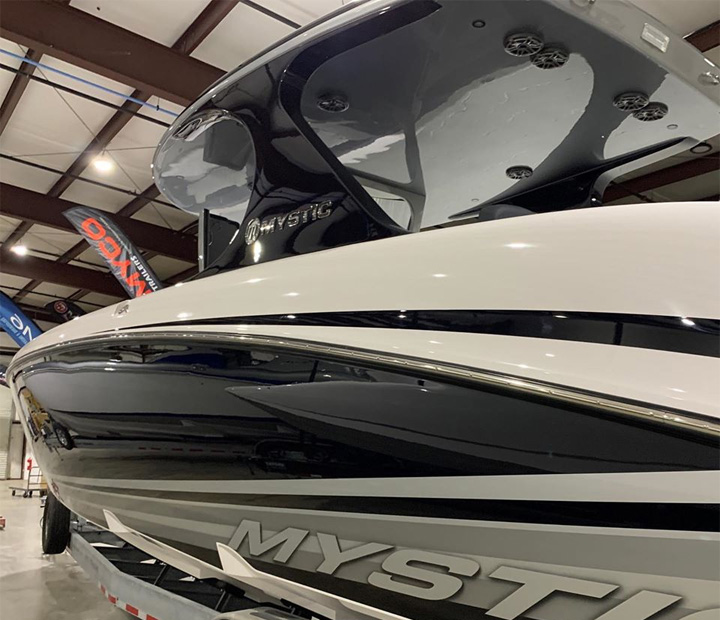 Boat Compounding and Waxing Ormond Beach FL
Safeguard and protect your boat with our boat compounding and waxing services in Ormond Beach FL. Our services encompass the elimination of oxidation, the restoration of brilliance, and the provision of protection against external elements. Our meticulous process commences with a thorough evaluation of factors such as gel coat oxidation levels, thickness, and quality. Building upon this analysis, we meticulously craft a personalized strategy tailored to your boat's unique requirements.
To conclude this comprehensive service, we offer a choice of protective coatings. Our protective options encompass waxes, sealants, and ceramics, each adeptly designed to fortify and safeguard your vessel, ensuring its long-lasting appeal and resilience.
Boat Detailing Services Ormond Beach FL
To ensure the enduring upkeep of your boat's condition, it is important to have consistent boat detailing services. Florida Boat Detailing presents its wide-ranging boat detailing solutions to the captivating vicinity of Ormond Beach FL, encompassing a diverse selection of services comprising:
Buffing & Polishing
Waxes, Sealants or Ceramic Coatings
Boat Washing
Cleaning & Protecting Seats & Cushions
Cleaning & Polishing Windshields & Glass
Cleaning Canvas & Outdoor Carpeting
Interior Boat Cleaning
Teak Deck Cleaning & Care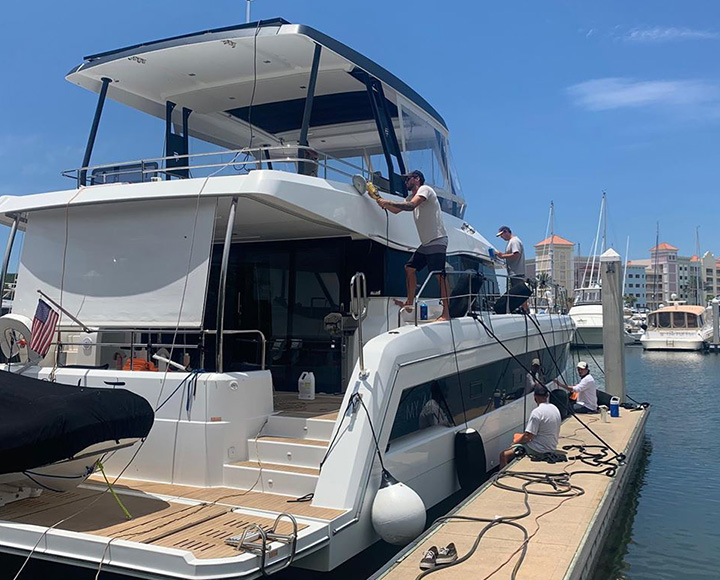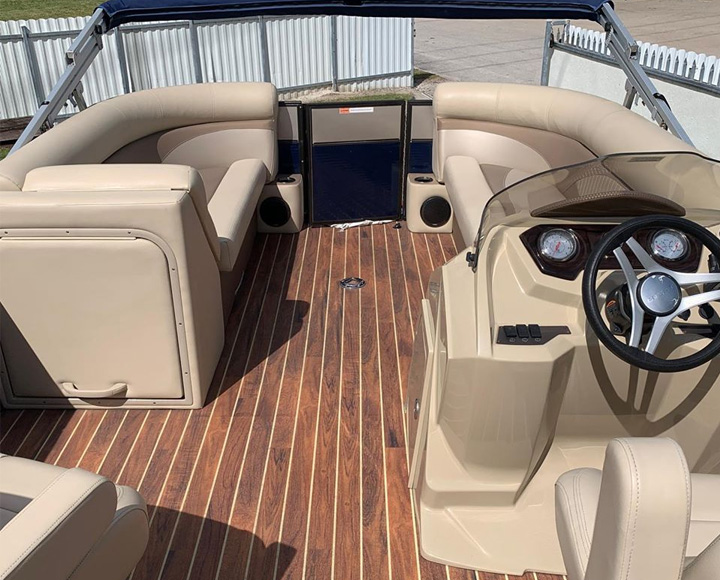 Teak Deck Cleaning
Ormond Beach FL
Is your teak deck displaying a lackluster or weathered appearance? Rest assured, Florida Boat Detailing is at your service to rejuvenate your boat through our specialized teak deck care, cleaning, and brightening services in Ormond Beach FL. With an in-depth comprehension of teak deck intricacies, our approach is uniquely tailored to address the specific requirements of each individual vessel. Reach out to us today to get started!
Interior Boat Cleaning Ormond Beach FL
Restore the interior of your boat to its former glory with our comprehensive interior boat cleaning services in Ormond Beach FL. No detail goes unnoticed, from the meticulous sanitization of toilets and bathrooms to the rejuvenation of seats and cushions. Our attentive care extends to the cleaning and polishing of wooden surfaces, rendering them with a radiant sheen. Mirrors and windshields are meticulously treated to ensure impeccable clarity. Deep-seated debris in carpets is expelled through our thorough vacuuming and deep cleansing techniques, while every surface is subjected to meticulous dusting. Interior rust stains fade under our expert guidance, and even the often-overlooked corners, hatches, and compartments are meticulously cleaned.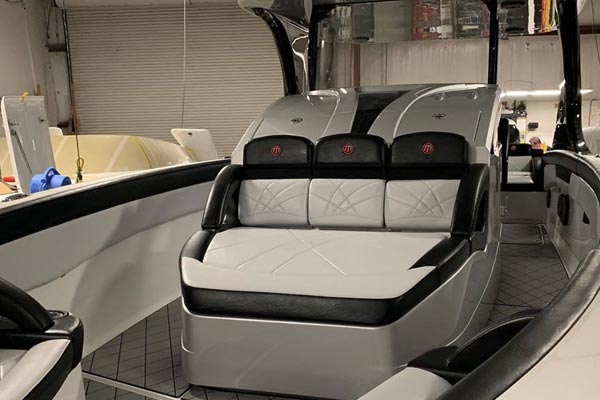 Book Our Services
Contact Florida Boat Detailing LLC by filling the form below.
"*" indicates required fields
Request Our Boat Detailing Services Now
Get In Touch with us to get the professional boat detailing services.