Boat Detailing
Port Orange FL
Professional mobile boat detailing and yacht management services.
Boat Washing Port Orange FL
Florida Boat Detailing offers exceptional boat washing services in the Port Orange FL area. Employing a meticulous approach, we ensure that every inch of your vessel is treated with the care it deserves. Whether your boat is afloat or on land, our skilled team adeptly eliminates salt residue, bird droppings, water stains, and grime, resulting in a revitalized and pristine surface. We extend our focus to even the most hard-to-reach spots, including beneath hatches and along gutter tracks. Committed to precision, we meticulously dry windows and brightwork, guaranteeing a brilliant shine in every aspect. Entrust your boat to us and encounter the transformative impact of our boat washing services on your maritime investment.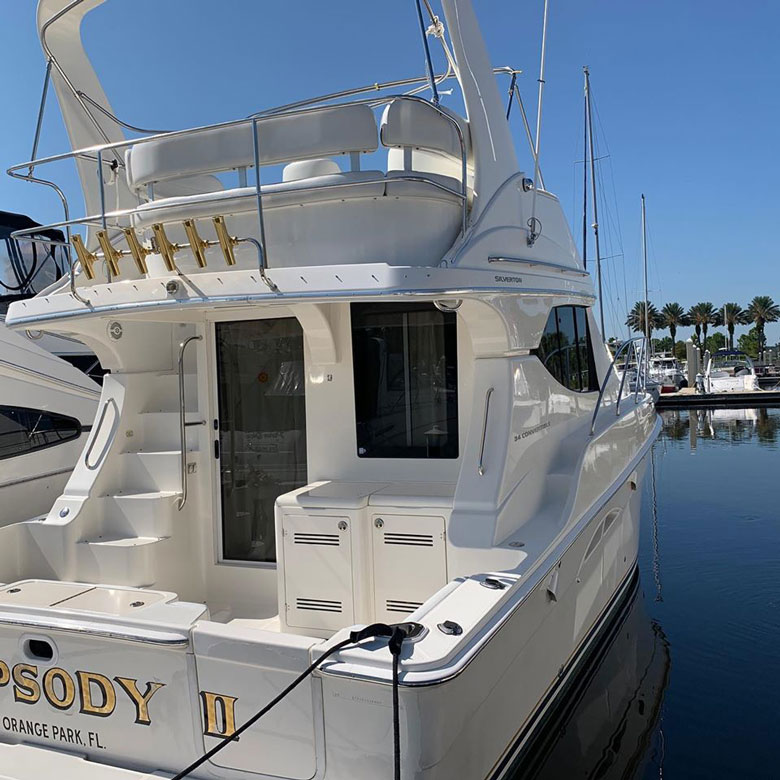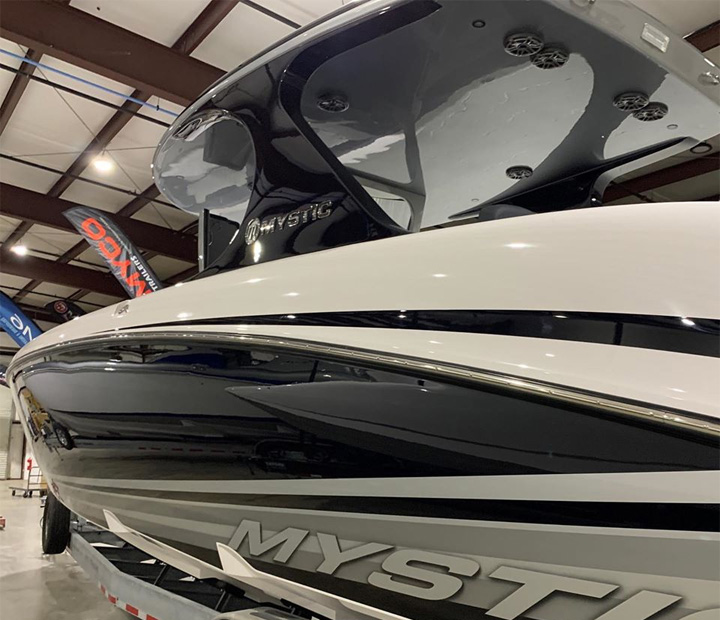 Boat Compounding and Waxing Port Orange FL
Enhance both the charm and durability of your boat through Florida Boat Detailing's boat compounding and waxing services available in Port Orange FL. Our specialized team adheres to an intricate process commencing with a thorough evaluation of your boat's gel coating to identify oxidation and wear. Armed with this insight, we meticulously devise a personalized approach that integrates compounding and precise sanding techniques to eliminate oxidation, revealing a flawless surface. Polishing then eradicates swirls and imperfections, elevating the gel coat's reflective brilliance. The final flourish involves the application of premium waxes, sealants, or ceramics, bestowing upon your boat a formidable shield against environmental forces. Guided by our unwavering commitment to precision, your vessel will emanate renewed radiance while benefiting from extended safeguarding. Contact us today for boat compounding & boat waxing in Port Orange FL.
Boat Detailing Services
Port Orange FL
Preserving the state of your boat necessitates careful care for both its interior and exterior surfaces, ensuring their protection year-round. In Port Orange FL, Florida Boat Detailing is committed to this objective, presenting a wide-ranging selection of boat detailing services. Our offerings include buffing and polishing, application of waxes, sealants, or ceramic coatings, thorough boat washing, meticulous cleaning and preservation of seats and cushions, polishing and cleaning of windshields and glass, attention to canvas and outdoor carpeting, interior boat cleaning, as well as specialized teak deck cleaning and care.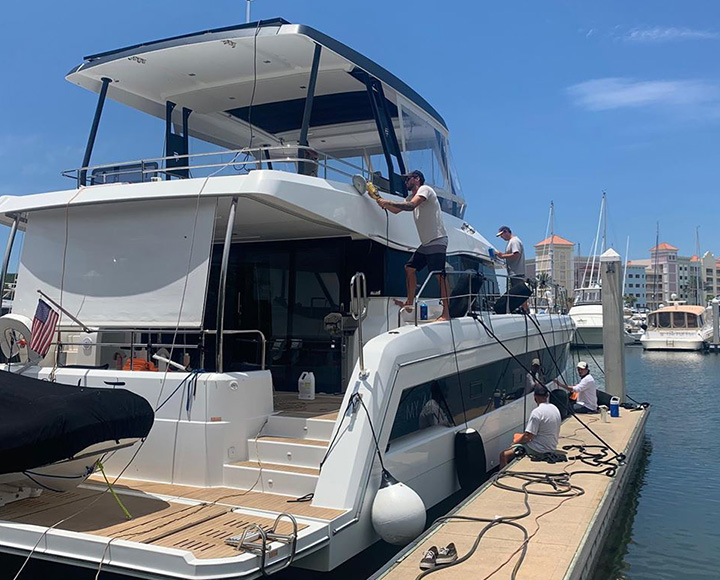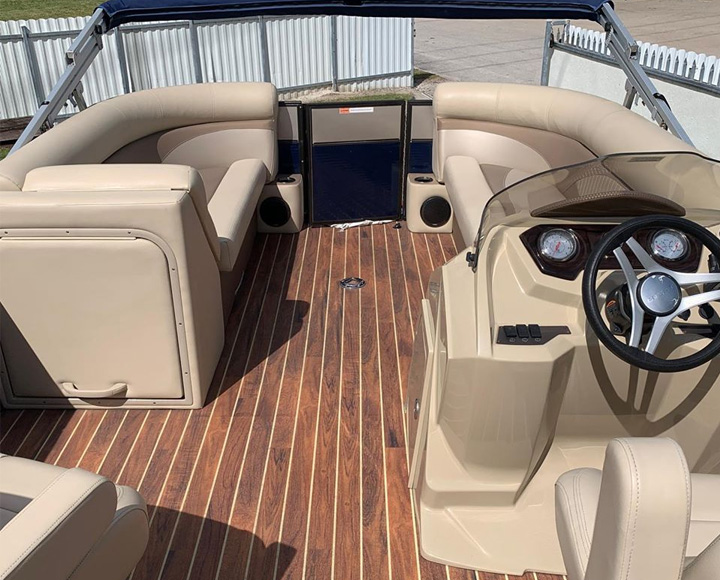 Teak Deck Cleaning
Port Orange FL
Teak deck care is our expertise, and we've got you fully taken care of. We possess a deep understanding of the distinct qualities and attributes of teak decks, which allows us to customize our cleaning and brightening services according to the unique demands of each individual boat. Whether your goal is to rejuvenate teak decks that have endured years of exposure to unforgiving elements and marine life, or you simply aim to revitalize a lackluster teak finish, Florida Boat Detailing stands ready to deliver the teak deck care services your vessel needs in Port Orange FL.
Interior Boat Cleaning
Port Orange FL
Recognizing the significance of upholding your boat's pristine appearance, it's essential to provide equal attention and care to the interior as you do to the exterior. At Florida Boat Detailing, we're prepared to meet this demand by offering comprehensive interior boat cleaning services in Port Orange FL. Our wide-ranging services encompass various aspects of interior care, including toilet cleaning, bathroom cleaning, thorough vacuuming and deep cleaning of carpets, meticulous dusting and polishing of wood surfaces, seat and cushion cleaning, cleaning of hatches and compartments, polishing mirrors, and the effective removal of interior stains. Your boat's interior will benefit from our dedicated expertise and meticulous approach.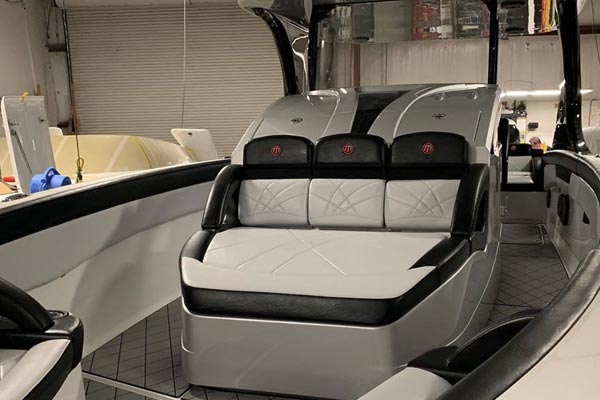 Book Our Services
Contact Florida Boat Detailing LLC by filling the form below.
"*" indicates required fields
Request Our Boat Detailing Services Now
Get In Touch with us to get the professional boat detailing services.